Hi everyone! Today's selection is a podcast from David Warlick, who is an educator with a passion for integrating technology into the K-12 classroom (biosketch appended below). This podcast, which was entitled "Episode 50 — The Future of Education", was posted to the web on 29 December 2005 at:
http://davidwarlick.com/connectlearning/2005/12/29/episode-50-the-future-of-education/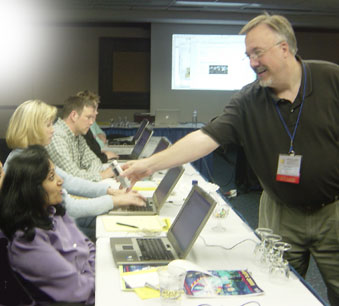 David Warlick
The show notes for this podcast included:
"This episode focuses on the future, which seems appropriate here at the tail end of 2005. Earlier this month, I conducted some workshops and spoke a conferences in New York and Texas. Each day included at least an introduction to podcasting. For each group, I walked around asking educators to describe what they believe they will see as they enter their classrooms in 2015 — ten years from now. I recorded and included in this podcast, most of their answers, which were interesting, insightful, and often entertaining. I'm writing a weblog about some of the ideas in 2¢ Worth. At the end of the podcast, I add my own two cents worth, describing the classroom of 2015, as I see it."
Best regards,
Burks
===========================
Technorati Tags: David Warlick, podcast, edtech, K-12 education
===========================
http://davidwarlick.com/drupal//?q=node/2
Short Bio
David Warlick, a 30 year educator, has been a classroom teacher, district administrator, and staff consultant with the North Carolina State Department of Public Instruction. For the past ten years, Mr. Warlick has been the director of The Landmark Project, a web development, consulting, and innovations firm in Raleigh, North Carolina. His web site, Landmarks for Schools, serves more than six-million visits a month. David is also the author of three books on instructional technology and 21st century literacy, and has spoken to audiences throughout the U.S., Europe, Asia, and South America.