Hi everyone! Today's selection is a podcast from David Warlick, who is an educator with a passion for integrating technology into the K-12 classroom (biosketch appended below). This podcast, which was entitled "Episode 48 — Web 2.0 at the NCETC", was posted to the web on 29 December 2005 at:
http://davidwarlick.com/connectlearning/2005/11/29/episode-48-web-20-at-the-ncetc/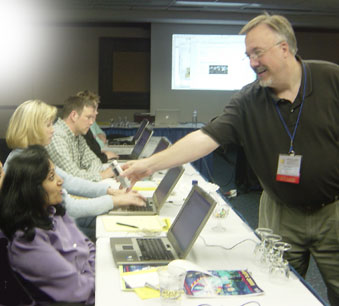 David Warlick
The show notes for this podcast included:
"I'm at the North Carolina educational Technology Conference (NCETC) in Greensboro, North Carolina, and very excited to be here. This is one of the high points of the year for technology educators in this state, when we get together and share what we're learning about new technologies, and how we are implementing them in our classrooms. We're going to hear it again and again, that we should be integrating technology, and I'm going to keep beating my drum that its about integrating a new literacy, but all that aside, it is invigorating to be with so many very smart people in my state who are thinking forward, and getting together to talk about it."
"Yesterday, I had the opportunity to work with about 20 outstanding educators. I knew up front these people would be special, because of all of the cleverly worded workshop titles they had to choose from, they came to one called "An Educator's Guide to Web 2.0?. We explored blogging, wikis, social bookmarks, RSS, and spent some time with Technorati and Blogpulse to explore this emerging idea of conversation as content. At the end of a very strenuous workshop, we had a 40 minute conversation, which I recorded — and will share with you."
Best regards,
Burks
===========================
Technorati Tags: David Warlick, Web 2.0, Web2.0, podcast, NCETC, edtech
===========================
http://davidwarlick.com/drupal//?q=node/2
Short Bio
David Warlick, a 30 year educator, has been a classroom teacher, district administrator, and staff consultant with the North Carolina State Department of Public Instruction. For the past ten years, Mr. Warlick has been the director of The Landmark Project, a web development, consulting, and innovations firm in Raleigh, North Carolina. His web site, Landmarks for Schools, serves more than six-million visits a month. David is also the author of three books on instructional technology and 21st century literacy, and has spoken to audiences throughout the U.S., Europe, Asia, and South America.